Becoming a Big Issue vendor gives you the opportunity to sell a world-renowned street paper while earning a meaningful income.
Anyone can become a vendor and start selling the magazine straight away. We support people from all walks of life, including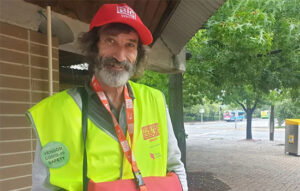 people experiencing homelessness, people with disability and people who are finding it difficult to get other work.
All you need to do is visit the vendor support office at the Woden Youth Centre and speak to a member of the team who will provide you with information and support. You will go through an induction process and sign a vendor agreement form.
Once you become a vendor, you will buy copies of The Big Issue for $4.50 to sell to your customers for $9, keeping the difference. There are plenty of pitches where you can sell the magazine and distribution points where you can buy copies.
Earning an income is only one part of being a vendor. You will also have access to training and support. Most importantly, you will be part of The Big Issue community.
Our Vendor Support staff provide support, training and tools to vendors. They help vendors through their hard times, celebrate their triumphs, and give vendors the confidence and skills to succeed in their work.
Want to know more?
Woden Community Service manages the operations of The Big Issue in Canberra. If you're interested in becoming a vendor within the ACT, please contact us on (02) 6181 2801 or email thebigissue@wcs.org.au.
The ACT Government supports The Big Issue in ACT through the Community Services Directorate.
Our approach to service delivery

WCS's purpose is to build connected communities and enrich people's lives. We are guided by our values of inclusion, compassion, hope, social justice, integrity and responsiveness. For more information about our approach to service delivery, see Our Commitment to Service.

We are committed to the safety, care and wellbeing of all those who access our services. We will respond immediately when any issues arise and meet all reporting requirements.

Your feedback is important to us
We welcome any feedback and complaints you have, to help us improve our services. For more information, see Providing Feedback and Making Complaints.

How we protect your information
WCS is committed to ensuring that the personal information you provide to us remains secure, is only used for the purposes for which it is collected and that you are aware of what information is held and your rights. For more information, see our Privacy Policy.