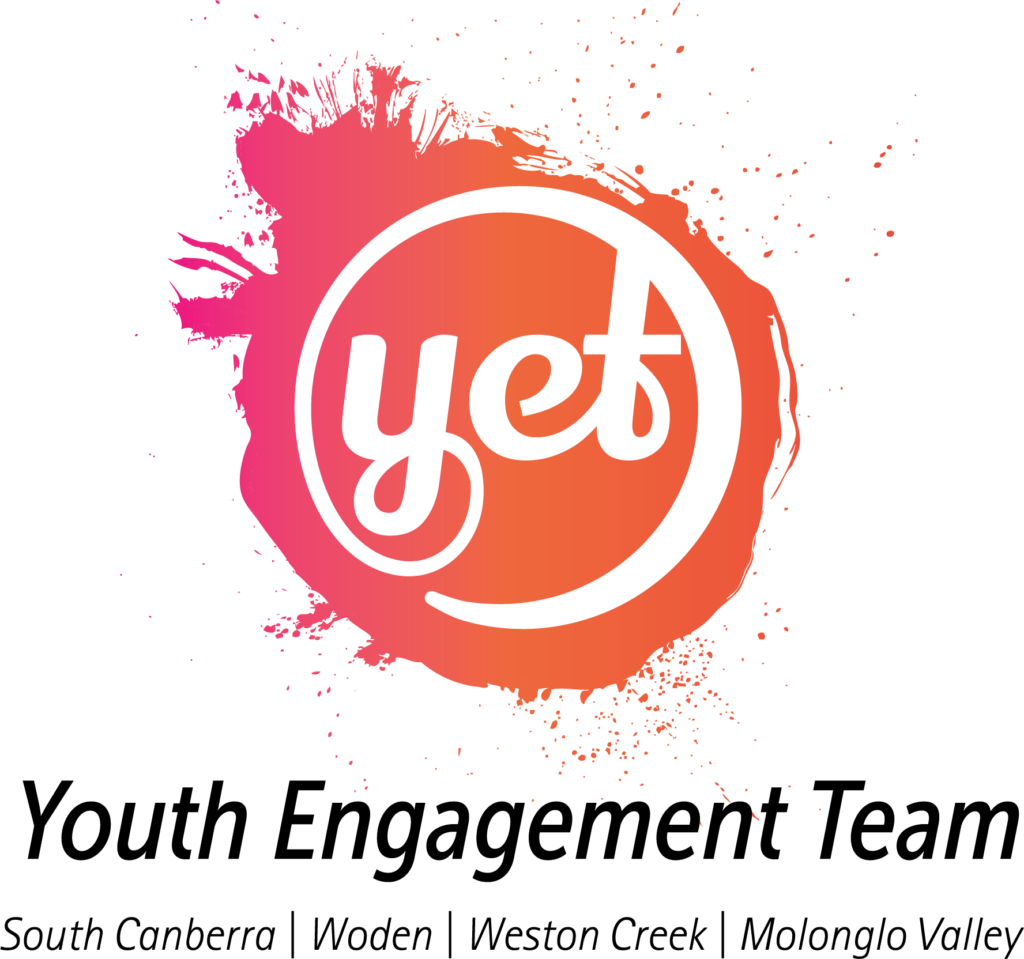 The Youth Engagement Team (YET) provide a youth engagement and outreach service for young people 12-25 years of age in the South Canberra, Woden, Weston Creek and Molonglo Valley regions of the ACT.
YET provide a range of support services for young people including:
After school Drop-In at the Woden Youth Centre
Case Work Support and supported referrals to other services.
Community Outreach in schools, in the community and at events.
Support groups and topic talks in schools.
School holiday programs
Employment Preparation
ACT Pre-Learner Licence Training
About Woden Youth Centre (WYC)
WYC is located at 29 Callam Street (opposite the Woden Bus Interchange). The youth centre has many facilities such as table tennis, pool tables, a half basketball court, free food, computer access, free Wi-Fi and trained Youth Workers available to talk to.
For the latest updates on drop-in times, activities and events, and to see what the team is up to, give the Woden Youth Centre Facebook Page a like.
YET Holiday Program
YET runs a holiday program for young people each school holiday period. Spaces are limited so get in quickly by downloading and completing the School Holiday Program Application Form and returning it to yet@wcs.org.au.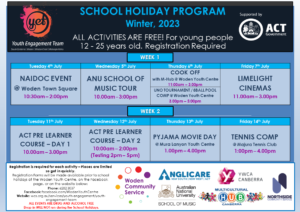 Watch this space for the latest program each term.
YET Holiday Program Spring 2023
Download the Registration and Permission Form
All events are FREE! But places are limited so get in quick!
YET Case Work Support
Referrals to the Youth Engagement Team for short-term casework support can be made by downloading and completing the YET Referral Form and returning it to yet@wcs.org.au
Want to know more?
For more information or if you have any questions, please get in touch with the Youth Engagement Team by email yet@wcs.org.au or call on (02) 6282 3037.
The Child Youth and Family Services – Youth Engagement Team, is a partnership between Woden Community Service and Anglicare and is funded by the ACT Government's Community Services Directorate.
Our approach to service delivery

WCS's purpose is to build connected communities and enrich people's lives. We are guided by our values of inclusion, compassion, hope, social justice, integrity and responsiveness. For more information about our approach to service delivery, see Our Commitment to Service.

We are committed to the safety, care and wellbeing of all those who access our services. We will respond immediately when any issues arise and meet all reporting requirements.

Your feedback is important to us
We welcome any feedback and complaints you have, to help us improve our services. For more information, see Providing Feedback and Making Complaints.

How we protect your information
WCS is committed to ensuring that the personal information you provide to us remains secure, is only used for the purposes for which it is collected and that you are aware of what information is held and your rights. For more information, see our Privacy Policy.