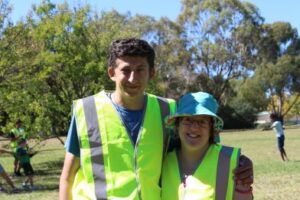 Our volunteers play a vital role in creating a caring community where everyone belongs. They are involved in diverse programs and work alongside our staff to support local people. 
What are the volunteering opportunities?
Some current volunteering opportunities include:
transport drivers 

 

digital literacy mentors

 

English conversation facilitators

 

social support group assistants

 

playgroup assistants

 

community speakers or entertainers

 

The Big Issue vendor supporters

 

community events assistants

 

workshop facilitators.

 
Volunteering can take many forms. If you have skills you would like to share with the community, we may be able to create a volunteer position around your skills. Do you love sport, art, spoken language, cooking, IT, leadership, wellness? Please reach out and we can help you share your passions with the wider community. 
Our volunteering programs involve working with a diverse range of the community. Programs include:
Bridging the Digital Divide 
Digital literacy mentors meet with members of the local community who are struggling to understand and use digital devices. Volunteers tutor participants one on one to achieve their digital literacy goals. Many participants have learnt to contact family and friends via Zoom, shop for groceries online and use Facebook. 
Supporting older Canberrans 
Volunteers support older Canberrans who live in the community and are at risk of becoming isolated. Volunteers provide companionship and drive participants to appointments or shopping.  
WCS holds weekly social support groups for older adults. Volunteers play an important role in supporting employees to provide care and social opportunities to residents with health and mobility limitations. 
Mentoring and helping youth and families 
We have roles that involve working alongside our Child, Youth and Family Support Team to assist young people and families in our community. We are looking for volunteers with experience in group facilitation and parenting support. 
English Conversation Classes 
WCS has a team of volunteers who deliver weekly English classes to people from culturally and linguistically diverse backgrounds (CALD). The classes have a strong focus on social connection and community engagement. 
The Little Pantry 
Volunteers assist with the operation of The Little Pantry. Community members can access a hamper of food and personal items once a fortnight. Volunteers run a donation stall at Woden Westfield and pack the donated goods ready for distribution.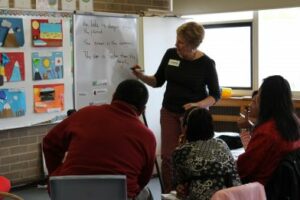 What are the benefits of volunteering?
Our volunteers tell us that they get many benefits out of their volunteering experience including:
feeling connected and being part of the community
learning new skills
feeling good and helping others
enjoying working with like-minded passionate people!
How much time do I need to commit?
Usually, volunteers commit one to three hours a week for an initial period of three months. But we are flexible, so just let us know your availability. We also have opportunities for people to provide one-off volunteer support through community events. 
Requirements
All WCS workers (voluntary and paid) need to join the ACT Government Working with Vulnerable People Register (WWVP). The WWVP card is free for volunteers. If you would like further information on Working with Vulnerable People registration you can visit the WWVP website. 
Want to know more?
For more information, please contact our Volunteer Coordinator by email volunteering@wcs.org.au or call on (02) 6181 2802.