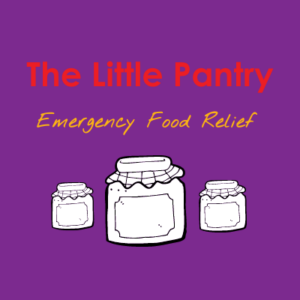 The Little Pantry is an emergency food relief service – a place where you can go in times of need.
Accessing The Little Pantry
You can visit us and get an emergency pack with a small number of non-perishable foods and personal items.
When: 9am to 5pm, Monday – Friday
Where: Woden Community Hub – Westfield Woden, Office Suite 003 (near Commonwealth Bank)
The Little Pantry Winter Appeal Goal
This winter, The Little Pantry wants to reduce the food insecurity that often arises from financial hardship. You can help us by donating to The Little Pantry Winter Appeal.
Over the next three months, we aim to raise $5,000 to go towards purchasing non-perishable food, personal items, and house hold cleaning products for people in need.
The Little Pantry is run primarily on donations. You can support people in need in your local community by donating to The Little Pantry.
Support The Little Pantry and set up a regular collection box for The Little Pantry in your workplace.
Download and print a donation box poster to put on your box.
When the box is full, contact WCS on (02) 6282 2644 and we will arrange for a WCS volunteer to collect the donations.
You can also support by making a tax-deductible secure online donation, and 100 per cent of your donation will go directly to the purchasing of non-perishable foods and personal items for those in need.
To date we have raised $2,506, which is 50% of our Winter Appeal target. Your contribution, no matter how small, can create a big impact to all Canberrans doing it tough this winter season.
Alternatively, you can arrange for a delivery from a supermarket of non-perishable items and personal goods to WCS Little Pantry. Please give reception a call to discuss items of need and delivery times to ensure we are available to receive the delivery.
The Little Pantry is a WCS initiative and supported by the combined Lyons Churches.
Want to know more?
For further information, please email info@wcs.org.au or call (02) 6282 2644.
Our approach to service delivery

WCS's purpose is to build connected communities and enrich people's lives. We are guided by our values of inclusion, compassion, hope, social justice, integrity and responsiveness. For more information about our approach to service delivery, see Our Commitment to Service.

We are committed to the safety, care and wellbeing of all those who access our services. We will respond immediately when any issues arise and meet all reporting requirements.

Your feedback is important to us
We welcome any feedback and complaints you have, to help us improve our services. For more information, see Providing Feedback and Making Complaints.

How we protect your information
WCS is committed to ensuring that the personal information you provide to us remains secure, is only used for the purposes for which it is collected and that you are aware of what information is held and your rights. For more information, see our Privacy Policy.