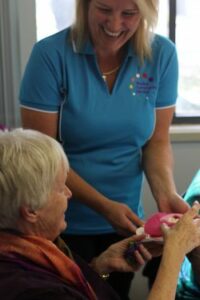 Woden Community Service is funded under the Commonwealth Home Support Programme (CHSP) to provide a suite of entry-level aged care services for eligible people. 
Our home support services can assist you to remain living at home and in your community. We will work in partnership with you to meet your changing needs and to maintain your independence. 
These services are: 
Domestic assistance

 

Personal care

 

Shopping support

 

Social support – individual
We may also be able to provide home support services for a fee, direct to individuals or under brokerage arrangements for agencies. Please contact WCS Aged Care Intake on (02) 6181 2819 or agedcareservices@wcs.org.au for more information.
Who can access home support?
To be eligible for services under CHSP, you must:
be aged 65 years or older, or 50 years or older for Aboriginal and Torres Strait Islander people

 

require low-level, basic services

 

not be receiving support through the National Disability Insurance Scheme or a Home Care package.

 
How much does it cost?
Service users are required to pay a contribution towards the cost of services they receive from WCS for Home Support services under CHSP. We recognise that sometimes circumstances may make it difficult to pay some or all of the contributions for service and we will always look at individual situations.
How do I access home support under CHSP?
You will need to contact My Aged Care on 1800 200 422 and get an over-the-phone assessment. Please nominate Woden Community Service as your preferred service provider. 
This service is funded by the Department of Health under the Commonwealth Home Support Programme (CHSP).
Our approach to service delivery

WCS's purpose is to build connected communities and enrich people's lives. We are guided by our values of inclusion, compassion, hope, social justice, integrity and responsiveness. For more information about our approach to service delivery, see Our Commitment to Service.

We are committed to the safety, care and wellbeing of all those who access our services. We will respond immediately when any issues arise and meet all reporting requirements.

Your feedback is important to us
We welcome any feedback and complaints you have, to help us improve our services. For more information, see Providing Feedback and Making Complaints.

How we protect your information
WCS is committed to ensuring that the personal information you provide to us remains secure, is only used for the purposes for which it is collected and that you are aware of what information is held and your rights. For more information, see our Privacy Policy.