Woden Community Service (WCS) recognises service users and their support persons have the right to partner safely and meaningfully with WCS in the design, delivery and evaluation of services that directly impact their lives.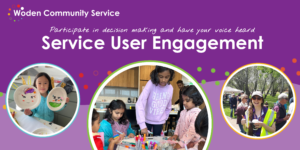 WCS is committed to continuous improvement of our services through embedded service user engagement mechanisms across the organisation.
Children's Services are seeking expressions of interest from current and recent service users (within 12 months) of WCS Early Learning Centres and Out of School Hours Care (OSHC) to join the Children's Services Service User Engagement (SUE) Reference Group and/or register. 
Why join? 
Would you like participate in decision making process that directly impact your children?
Would you like to be an active partner in the services we deliver?
Would you like to have your voice heard and make informed decisions?
Then please join the Children Services Service User Engagement Reference Group or Register.
A Service User Reference Group is an ongoing, formal group of service users and support persons who meet approximately four times a year to provide Children Services with advice, feedback and input into delivery of programs. Service User Reference Groups are facilitated by WCS staff called 'Service User Engagement Champions'.
Register of Interested Service Users and Support Personal is a register of consenting service users and support persons who can be contacted for engagement activities by service user engagement 'Champions' of Children Services. Engagement activities might include being contacted for targeted engagement initiatives such as participating in a consultation process or co-designing a new resource.
If you are interested in being a part of Children's Services Service User Engagement, please fill in the below form:
We value your time and experience!
WCS offers reimbursement payments to service users who:
are engaged in the WCS Children Service User Reference Group; or
have agreed to be on a Service area's Register of Interested Service Users and their Support Persons and are formally consulted by WCS in this capacity.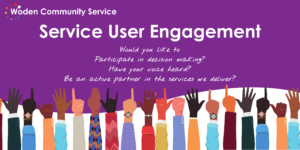 Related links
Our Commitment to Service – Woden Community Service
Engaging with Service Users and Support Persons – Woden Community Service
WCS Service User Engagement Statement of Commitment
Providing Feedback and Making Complaints