Woden Community Service is seeking participants for the ACE project, a 15-week program for people where English is not their first language.
This free program supports people to gain skills in pre-foundational language, literacy and numeracy to secure employment. It runs weekly every Wednesdays in Whitlam at 10 am until 2:30 pm, starting from 23 August to 3 December 2023.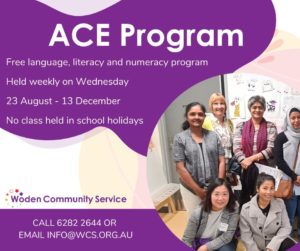 The ACE Project creates a supported learning environment with small groups of participants. It also addresses barriers to participation and can support with travel and child-minding services (off-site).
To make your bookings, please call (02) 6282 2644 or email info@wcs.og.au.