Have you ever wondered about The Big Issue magazine and what it is all about?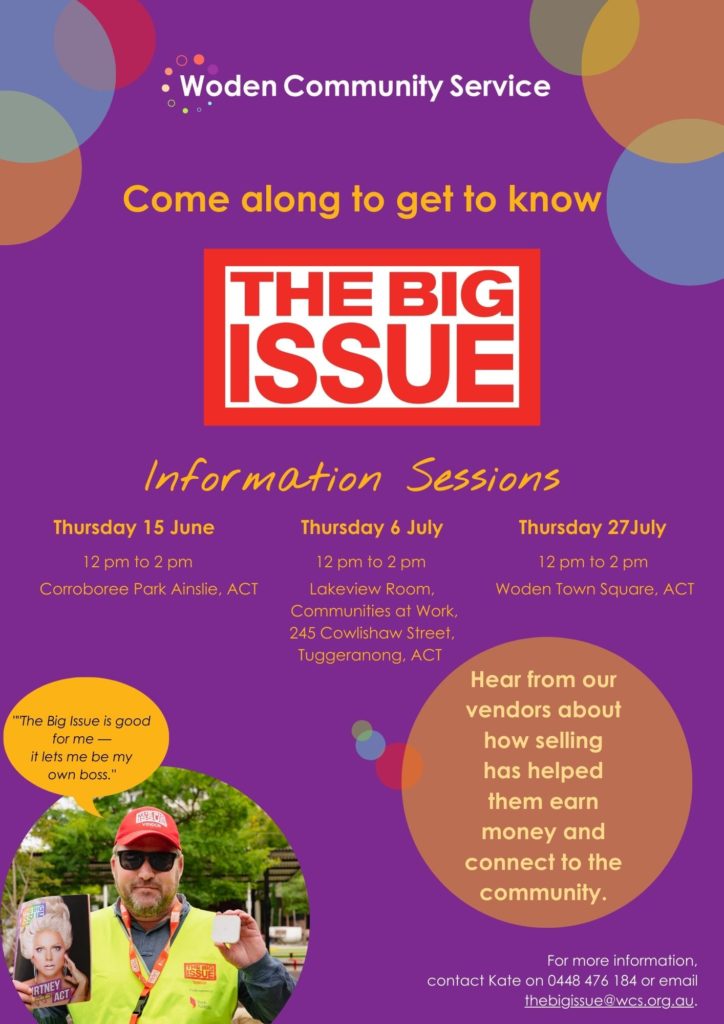 Selling The Big Issue gives people the opportunity to sell a world-renowned street paper while earning a meaningful income and to choose their own hours.
Anyone can become a vendor and start selling the magazine straight away. We support people from all walks of life, including people experiencing homelessness, people with disability and people who are finding it difficult to get other work.
Vendors will also have access to training and support. Most importantly, they will be part of The Big Issue community.
Come to our 'Get to Know The Big Issue' information session series, with the first workshop kicking off on Thursday 15 June 2023 from 12 pm to 2 pm at Corrobboree Park, Ainslie, ACT.
Enjoy a light lunch while hearing from our vendors about how selling The Big Issue has helped them, how to join up and the support we provide. We will also have information on some of the other programs that The Big Issue Australia runs.
Bring your clients, colleagues, friends, companions or anyone who might be interested in the selling.
To register for the 15 June workshop, please visit Eventbrite to reserve your spot.
Not able to get there?
We will be running more events at different locations over the next few months.
The other confirmed events we have are:
More to come as we continue to explore and confirm venues in Gungahlin and Belconnen.
For more information, please call Kate on 0448 476 184 or email us at thebigissue@wcs.org,au.