by Amie Arthur
Manager – Early Childhood at Woden Community Service
To mark the National Reconciliation Week (NRW), Woden Community Service (WCS) hosted a delightful all-staff morning tea event where employees came together to celebrate our shared commitment to reconciliation.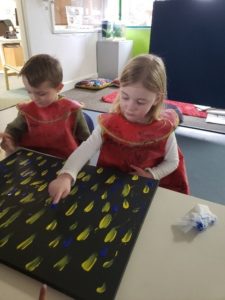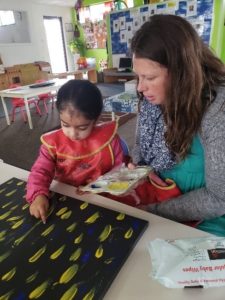 Photos of children at Lollipop Early Learning Centre with manager Amie Arthur
As part of the program, we were treated to a captivating performance by the children from Lollipop Early Learning Centre (ELC), who graced us with their rendition of "Taba Naba" (Let's come), a traditional children's song originating in the Torres Strait Islands, just north of Australia.
The Lollipop children's performance was truly mesmerising, accompanied by a beautiful "sit-down dance" where the dancers showcased traditional movements corresponding to the song's heartfelt lyrics. It was a delightful cultural experience that transported us to the rich heritage of the Torres Strait Islanders. The children also chose to wear colourful lei's around their necks that included the colour yellow as they had been celebrating 'wear it yellow'; an initiative to help brighten the future for First Nations Children.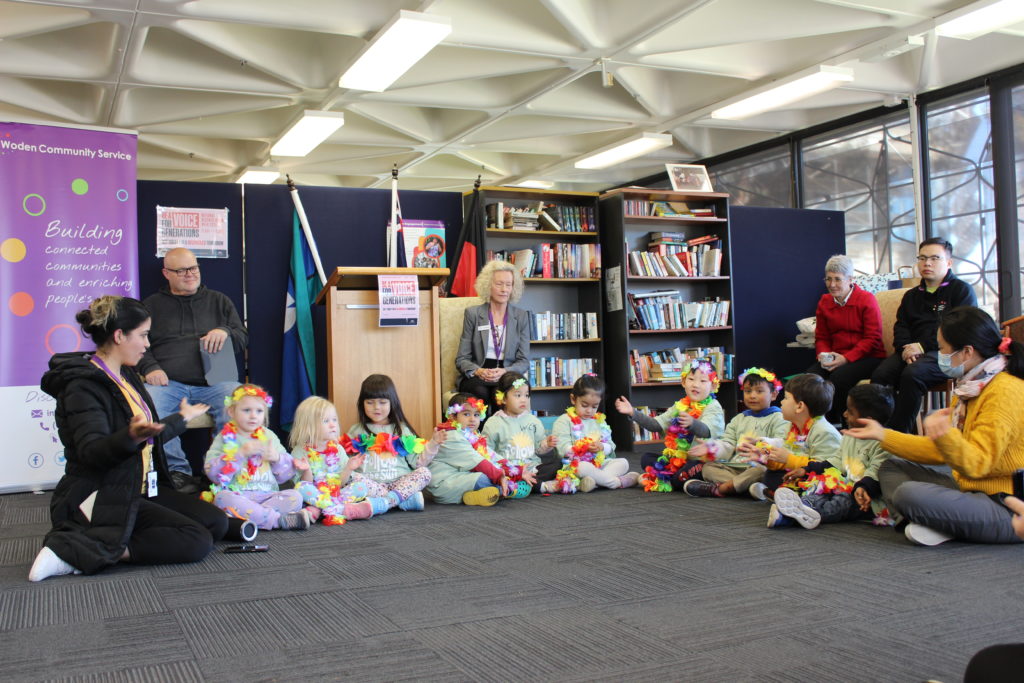 Lollipop children's performance at the NRW all-staff morning tea
Our morning tea continued with an enlightening speech from our guest speaker, Cheyne Halloran, who shared his profound insights on this year's NRW theme, 'Be a Voice for Generations.' Cheyne's words resonated deeply with WCS staff and inspired us to reflect on the meaning of reconciliation in our lives and work.
In the spirit of capturing our collective reflections, our Reconciliation Action Plan (RAP) Working Group compiled the responses from WCS employees and transformed them into a beautiful artwork. This masterpiece, painted and named by the children "Drops of Feeling," combines the words that best describe our staff's reflections on reconciliation: CONNECTION, BELONGING, HEALING, LISTENING and UNDERSTANDING. The artwork symbolises our aspirations for a future where reconciliation flourishes, where respect and understanding are paramount, and where learning plays a crucial role in shaping a harmonious society.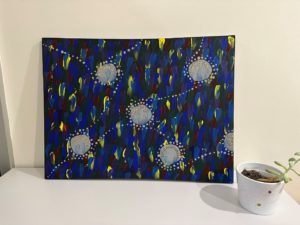 "Drops of Feeling", NRW artwork painted by Lollipop children
We invite all WCS employees to take a moment to visit the artwork at Callam Offices when it is erected. It serves as a reminder of our ongoing commitment to reconciliation and the role each of us plays in fostering positive change within our organization and the wider community.
We would like to extend our gratitude to the RAP Working Group for organising this insightful event, as well as to the Lollipop children and Cheyne Halloran for their incredible contributions. We believe that such occasions not only enrich our understanding, but also strengthen the bonds of unity and cultural appreciation among our WCS staff.
As we move forward, let us carry the spirit of reconciliation in our hearts and continue to be voices for generations to come.
Together, we can make a difference.