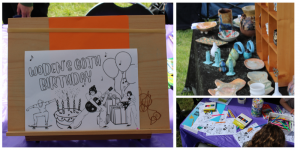 On Sunday WCS, Tuggeranong Arts Centre and Woden Valley Community Council co-hosted a big birthday party for the Woden region to celebrate its first 60 years.
Throughout the afternoon, three different bands performed: Pachamama, Devine Devilles and Pretty in Punk.
While some families were setting up their picnics, others bought food from the various hot and cold food stands or from the BBQ run by our Youth Engagement Team. Two of the big draw cards were the skate board and basketball competitions.
Lots of families walked around in the sunshine checking out the stalls selling clothing, art and crafts. There were games to be played, dancing and several children's activities taking place – including one run by our Children's Services team.
Thanks to all the staff who helped out on the day and to those who came and enjoyed the event.