The Diversity Working Group at WCS has announced an exciting initiative in honour of the upcoming International Day of People with a Disability, inviting visual art submissions from across WCS's staff and program users to be featured in an upcoming Art Exhibition at the Woden Community Hub on 07 December 2023.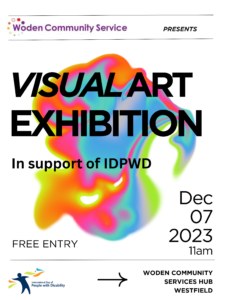 The primary aim of the exhibition is to provide an inclusive opportunity for all to celebrate and raise awareness, understanding, and acceptance of people with disabilities. The event seeks to foster a welcoming environment where individuals from all backgrounds can come together to appreciate the artistic contributions and stories shared by those within the WCS community.
The exhibition will be a competition, allowing participants to win exciting prizes. All entries must be submitted to the Callam Office by 01 December 2023 to ensure inclusion in the event. Each art piece will be displayed for a week, after which they will be returned to their owners. Therefore, participants are requested to include their details on all entries.
Official opening (inclusive of a morning tea):
Address: Woden Community Hub (above Commonwealth Bank), Westfield Woden, Phillip, ACT, 2606
When: 11 am, 07 December 2023